"Living under a bridge" is almost a synonym for being homeless. But quite a few homeless people actually live under a bridge.
Mr. Karel Kašpařík (aged 65) is one of those who do.
He has built for himself a small room under a road bridge crossing the river Svitava close to the Czech town Blansko. And even though it is small, it is comfortable and well insulated, therefore warm even during tough winter. The hut is built only from material Karel collected himself or got from friendly people.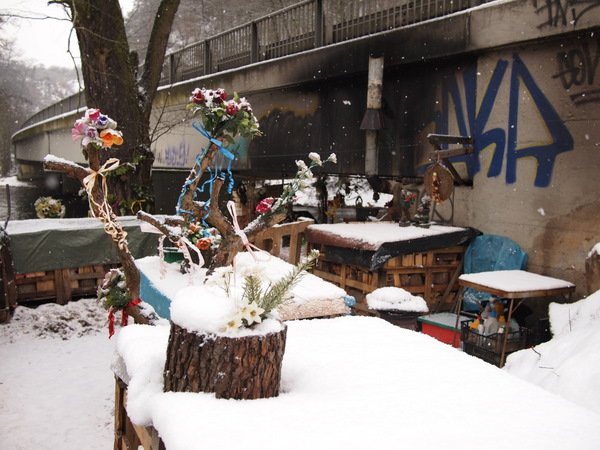 First time we went to meet him he was not home. But we found a small plastic box saying "Post", so we left him a letter.
Next time I tried, even from a distance I was able to see a smoke coming out of a chimney. Karel was friendly and invited me inside. He was very hospitable, offered me tea and biscuits and was happy to have someone to talk to.
After finishing school he moved to Slovakia and was working there for more than 20 years as a miner – first for more than ten years of coal, later of uran – enjoying all the benefits communist regime was giving to miners.
But then it got worse. He moved to Šumava (a mountain range in the Czech Republic) and was taking care of a building of a friend, who was living in Austria at that time. After few years she came back and told him to leave. He had nowhere to go, so he packed everything on his bike with a small trailer and was living for more than a year in Šumava forests.
Once he took his bike with the trailer and joined – he says just for fun – a bike race across Šumava and he became popular in a local newspaper. He got the nickname "King of Šumava" which he still uses with pride.
Later he moved to another Czech mountain range Beskydy, spending a winter in a fodder rack. Then he was living with a friend in Brno, but she forced him to leave after a year.
So he packed his bike again and finally settled under the bridge, where he's been living already for three years and says he's happy there.
He says he has everything he needs. Even though last year his income – made mostly by collecting and selling metal – was on average 650 CZK (~25 EUR) per month, he says he doesn't need more. Some people give him gifts, he can find many useful things in trash bins and from time to time a local charity helps him.
Inside his small room he has stove, bed, sleeping bag, battery-powered radio, and led-lights. He also prepared a lot of wood for winter – currently he used less than one fourth of all wood he prepared beforehand. Drinking water is taken from a nearby spring.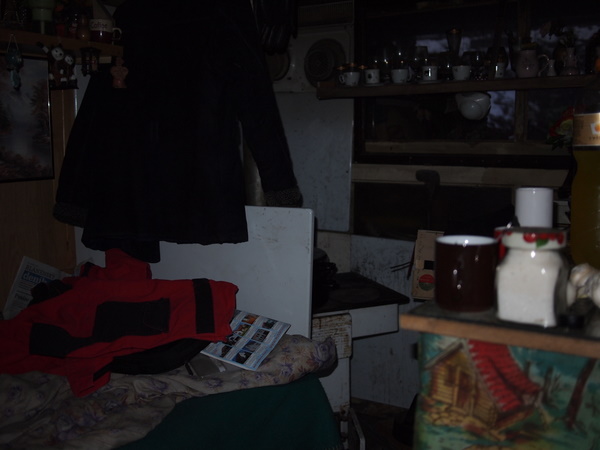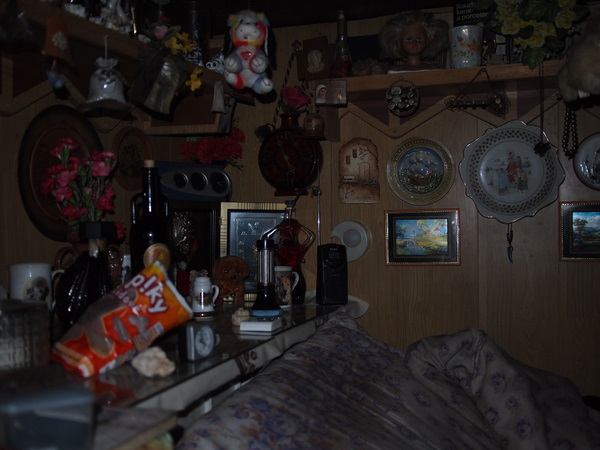 Apart from his two daughters to whom he sends postcards each month he has one closest friend – his dog. Her name is Lejdy di Princezna (Lady di Princess) and she follows him everywhere he goes.
He used to have another dog, but he died in a car accident. With tears in his eyes, he was showing me pictures of his old dog, telling me he buried him under a tree nearby.
His only fear are floods. Last summer the river went up more than a meter and even though he luckily escaped together with the dog, water washed away a big part of his possession.
He is optimistic about his future and says he is enjoying the life he is living. His life motto, which he told me many times, is:
"I was born as a human, and I am going to die as a human."
17 Comments